School sucks. Since I don't have much time to write full reviews consistently, I'm going to run a series of posts called
Blastbeat Reviews
, which is going to be a bunch of really quick reviews of albums I was planning on reviewing but never got the time to, all together in one post. Since a majority of my in depth reviews are lesser known/ obscure/ hipster bands, I'll include some more mainstream stuff in here, too.
Pig Destroyer - Mass & Volume
A digital EP released by Relapse Records, where all proceeds go to the college fund of Pat Egan's daughter. Pat was a loved member of the Relapse crew, and the international metal scene will miss him dearly. Rest in peace, Pat.
This was recorded during the
Phantom Limb
sessions, and shows a departure from
Pig Destroyer
's grind sound, much like
Natasha
.
Mass & Volume
is a crushing doom/ drone EP with the immense 19 minute long "Mass" which gives off a huge
Sunn O)))
vibe, and the more traditional "Volume" which sounds like
Jucifer
on steroids. This is definitely one of the heaviest things
Pig Destroyer
have ever released, but if you aren't a fan of disgustingly sludgy doom, you might not dig it. If you're up for supporting a good cause, you can get it
here
.
Score: 3.5/5
Devourment - Conceived in Sewage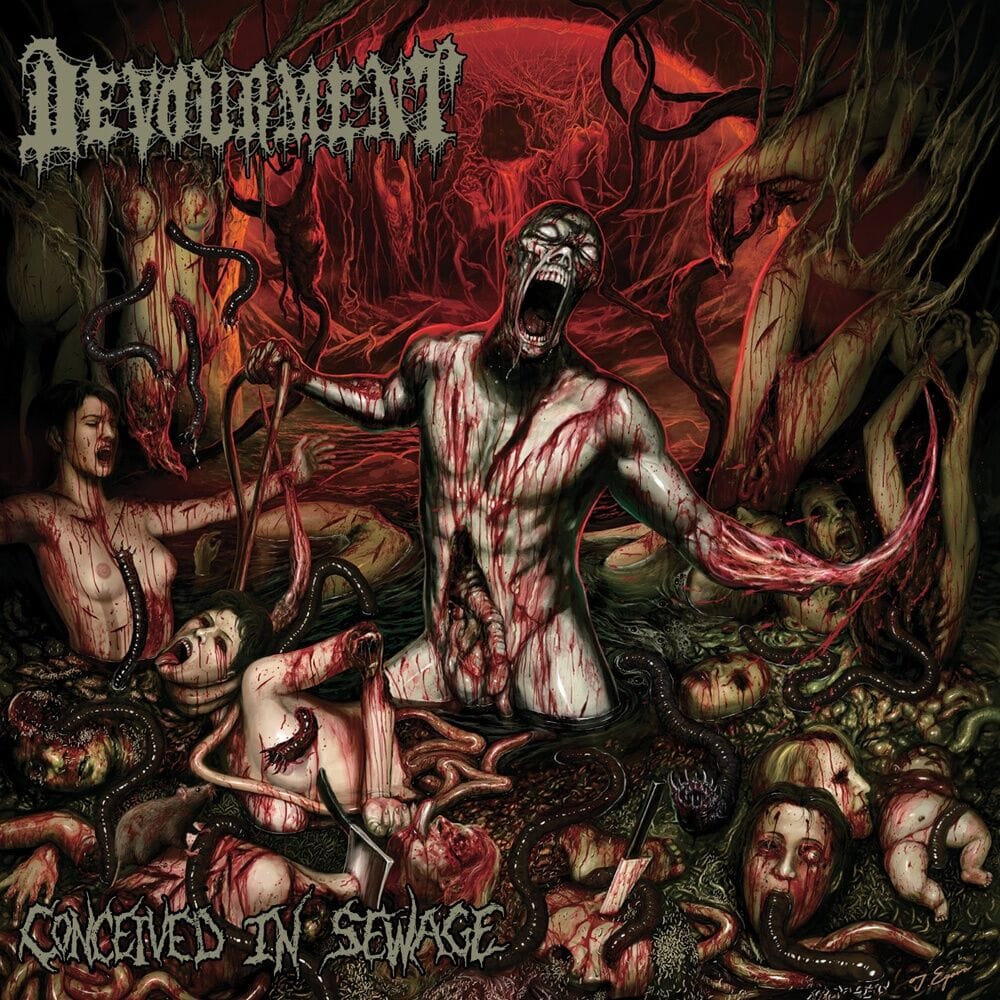 Guttural, slamming sickness. Devourment is back with way better production, pit riffment out the ass, and lovably incomprehensible vocals. The riffs are catchy, the slams are brutal, and even though it's just a refined version of what Devourment have always sort of done, it's still a killer death metal record. Not one of the year's best, but definitely fun as hell to listen to. I couldn't really stand old school Devourment, but Conceived in Sewage is something I could see myself listening to on my own free time.
This is the album you play when you invite your conservative, Christian neighbors over for dinner Sunday night. Make sure your CD is somewhere easily seen, so their kids can truly appreciate develop waking nightmares by the artwork.
Score: 2.5/5
Hatebreed - The Divinity of Purpose
Ah, Hatebreed. They've been the soundtrack to every hardcore kid's workout since Satisfaction is the Death of Desire dropped in 1997. They haven't changed a single damn thing for the almost 20 years they've been around, and I fucking love them for it. This is music to bleed, sweat, and cry to, chock full of all the classic Hatebreed tropes like infectiously cheesy, but ultimately empowering lyrics, gang vocals, tough-guy breakdowns, and caveman riffing. It's damn catchy. I'm warning you right now, you'll be chanting lines like "WHO'SE GOT MORE HEART THAN YOU? NO ONE!". All. Damn. Day.
This album is essentially 12 anthems of pure inspiration, penned to be screamed and chanted with your metal/ hardcore brothers and sisters after a night filled with beer, and much like any other Hatebreed album, it's begging to be blasted at the gym. Bro, do you even lift? Score: 3.5/5
Social Studies - Proxemics
Social Studies is a hip-hop project between producer Chris Devoe and MC Zano Bathroom. If there's any reference point I can find for Proxemics, it would be that it's a lighter version of Death Grips. It's experimental and abstract in it's production, with layers and layers of sounds piling up into tracks that definitely need to be listened to three, four, or five times to be fully absorbed. There are some awesome samples across the album, and everything stays pretty dreamy and mind-fucky across its near hour long running time.
Zano offers really entertaining and thoughtful lyrics across the seven tracks, each dubbed a numbered Assignment. What's really interesting about Zano on
Proxemics
is that every verse is either totally written before recording, or freestyled during recording. I can't tell you which ones are written or not. That's definitely a testament to Zano's rhymesaying skills. You can pick up
Proxemics
from
Daddy Tank Records
. If you want a taste of
Social Studies
, check out Devoe's
Bandcamp
.
Score: 4/5
That's all for now, folks!
-Grave Dave