The Boss is back! Bruce Springsteen pumped out his latest album,
Wrecking Ball
this March, three years after his 2009 album
Working on a Dream
. Springsteen has been releasing material at a solid pace since his haitus from '95 to '02. Even though my history with Mr. Springsteen only runs as deep as his two most famous albums,
Born to Run
and
Born in the U.S.A.
, when I heard about his new album I decided to give it a shot.
Despite having a discography that traces all the way back almost 40 years, the Boss still manages to keep things fresh with
Wrecking Ball
. Since the beginning, Springsteen's key demographic has always been the average, working man. He's delivered solid rock albums meant to pick you up after a hard day's work or quieter folk compilations that you can unwind and relax to.
Wrecking Ball
seems to fall somewhere between the two, but also expands into completely different territory.
This release definitely seems to lean towards the folky side, with the inclusion of a bunch of American folk instruments. Banjos, fiddles, and the like make their appearance left, right and centre on
Wrecking Ball
and the E Street Band's multiple vocalists lend some extra help with their background singing. Although there are a couple songs that the Boss plays on electric guitar, they still hold their folky vibe with simple tried and true chord progressions.
As folky as it can get, this release is very energetic. The opening track, "We Take Care of Our Own" is instantly a classic anthem. Things stay afloat with a couple more powerful tracks before taking things down for one of the longer tracks, "Jack of all Trades". This track
really
pushes the small, blue collar American town feel. Springsteen's voice hits a country timbre, and with the slow melodic piano and trumpets in the background, images of farmland and simple folk putting in a hard day's work come to mind.
Immediately after "Jack of all Trades", the Boss swings to a different kind of folky. "Death to my Hometown" really reminds me of some Irish-American bands like Dropkick Murphys and Flogging Molly. Obviously, Springsteen and the E Street Band aren't a punk outfit, but the mix of leading flute lines and Springsteen's versatile voice really draw a connection to those Irish-American rock sounds.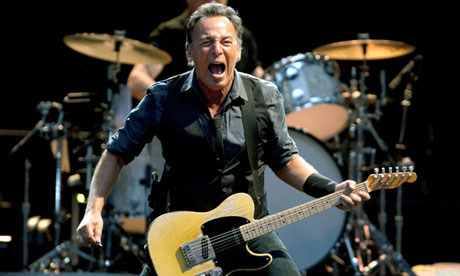 "SLAAAAAAYYYYEEEEERRRRRR" --Bruce Springsteen
Something very interesting happens in the penultimate song of the album, "Land of Hopes and Dreams". During the intro section of the track, Springsteen uses electronic percussion which really throws the listener through a loop. The rest of the track jumps to a more driven rock sound and features a beautiful sax solo about mid way through.
Bomb-Ass Tracks:
We Take Care of Our Own, Shackled and Drawn, Death to my Hometown
On a Playlist With:
Neil Young, Mumford & Sons, Dropkick Murphys
Overall Score
3.0
Springsteen puts out a solid folk rock album with a couple songs I'll keep coming back to. Things are catchy, simple, but powerful on
Wrecking Ball
and it's really surprising how fresh the Boss' music is after this long. I have no idea when he's planning on releasing another album, but if it's anything like
Wrecking Ball
, I will definitively look into it.
That's all for now, folks! We take care of our own.